How to Choose Your Desired Heat Press Machine
How to Choose Your Desired Heat Press Machine

Whether you're new to heat printing and looking for your first heat press, replacing your existing press with a new model, or adding a heat press to increase your business's production, you need to know what to look for. From basic elements like press type, even pressure, and temperature, to innovations like custom platens, this guide will teach you about the functionality and features of the latest heat presses. You'll also learn what questions to ask when shopping and ultimately decide which press is right for the unique needs and challenges of your heat printing business.
40x60cm 上滑式气动双工位烫画机
Considerations For Purchase
The three main factors that affect heat press printing effect are pressure, temperature, and time. Its working principle is to generate heat through a heating plate, and use a certain pressure, specific temperature and time to penetrate graphic onto a substrate.
The core component of the heat press machine is a heating plate, so you should pay attention when choosing a heat press machine. The upper and lower plates should be made of aluminum, and the heating tube is cast inside the aluminum plate. If the heating plate is too light and too thin, it will easily deform and affect the transfer effect and service life. And the heating plate of the heat press should be evenly heated.
40x60cm 下滑式气动双工位烫画机
After pressing the upper plate of the heat press, it should be absolutely parallel to the lower plate. To test whether the upper and lower plates are tightly engaged, you can put a piece of hard paper or other sheet-like materials with tough materials at the four corners, and then press the handle down. After the upper and lower plates are locked, the hard paper is pulled outward , You can know whether the upper and lower plates are flat and the machine is qualified.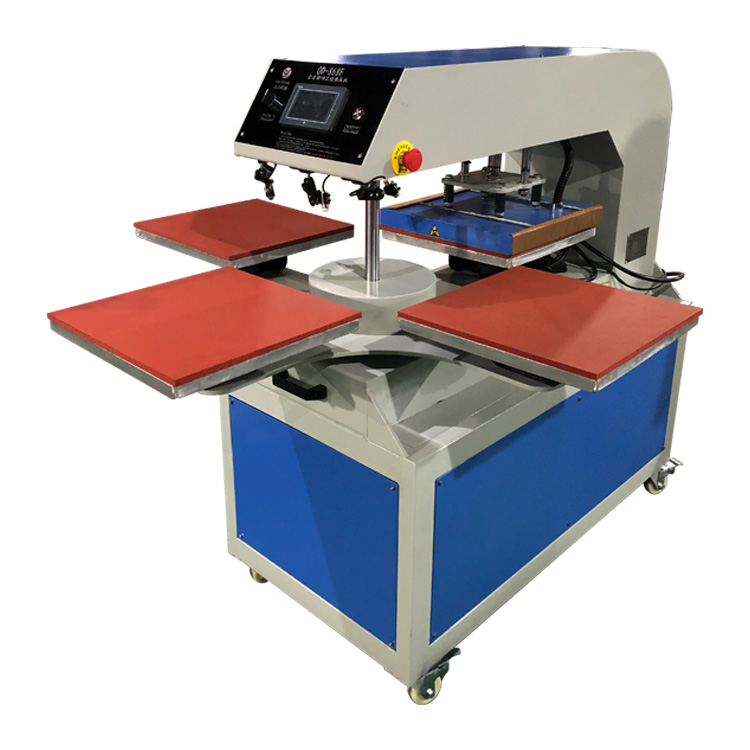 40x60cm 旋转式四工位烫画机
Latest News
Contact Us
Name: Peter Fu
Tel: +86-769-86866158
Fax: +86-769-85623986
Mobile: +86-15992948998
E-mail: [email protected]
WeChat: gsmachinery
Whatsapp: +8615992948998
Add: No.45 Mangguo Lane, Xintang,Chanshan,Dongguan,China